After the Bell | September 17, 2021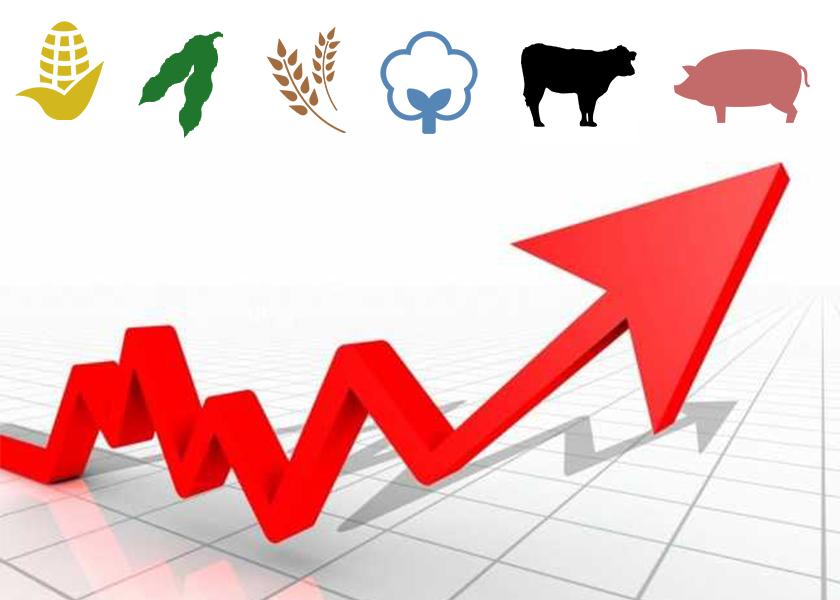 Corn: December corn fell 2 1/4 cents to $5.27 1/4 a bushel, up 1.9% from $5.17 1/2 at the end of last week for the first weekly gain in the past three. Corn futures recovered from a brief drop under $5.00 a week ago amid growing conviction the market forged a near-term bottom after the Sept. 10 USDA Crop Production Report. Harvest will accelerate in the week ahead, aided by dry conditions across much of the Midwest. USDA will update harvest progress Monday. As of Sept. 12, 4% of the corn crop was harvested, compared to the 5% average for the previous five years. Seasonal pressure as harvest expands may limit futures' upside over the next month, and sluggish exports may also cap any rally attempts. Export infrastructure at the U.S. Gulf remains hobbled by damage and power loss from Hurricane Ida and may not fully operational for several weeks at the earliest.
Soybeans: November soybeans fell 12 cents to $12.84 a bushel, down 2 1/2 cents for the week. December soymeal fell $1.90 to $342.20 per ton. December soyoil fell 58 points to 56.26 cents per pound. Harvest activity is going to ramp up with the crop drying down quickly and a generally open forecast over the next week. That could put seasonal pressure on futures amid farmer and commercial hedge pressure. But traders will also keep a close watch on the export demand picture after China booked some Brazilian soybean cargoes for fall delivery this week. Any additional Chinese business that goes to Brazil is likely to put pressure on prices. Another shipping factor to watch: delayed unloadings at the Gulf since Hurricane Ida has left barges out of position and caused shortages upriver and pressuring interior basis.
Wheat: December SRW wheat fell 4 1/4 cents to $7.08 3/4 a bushel, still up 2.9% on the week. December HRW futures fell 7 1/2 cents to $7.13, up 30 1/2 cents from a week ago. December spring wheat fell 6 cents to $9.00 1/2, a 21 3/4-cent weekly gain. U.S. Plains weather will be one key factor in the direction of wheat futures in coming weeks. Persistent dryness may allow seeding to run ahead of normal but could also threaten early-season development. Traders will also closely monitor exports following strong sales the past week, as well as the global production outlook, after reports of lower harvest estimates for Canada, France and Russia this week.
Cotton: December cotton futures fell 18 points to 92.33 cents a pound, down 1.3% for the week and the lowest closing price since 92.30 cents on Sept. 1. A jump in the U.S. dollar index this week limited price gains in cotton, and further dollar strength next week may add further pressure. U.S. stock indexes also showed late-week softness. World Weather Inc. said remnants of Tropical Depression Nicholas should slowly dissipate through the weekend and into early next week. Some flooding rain has occurred this week in a part of Louisiana. "Rainy weather will not bode well for open boll cotton in the southeastern U.S. or Delta, but no heavy or excessive rain is expected," the forecaster said. West Texas is expected to receive limited rainfall and warm temperatures favoring late-season crop development.
Cattle: October live cattle fell 80 cents to $122.80 per hundredweight, down 0.5% from $123.425 last Friday for the third consecutive weekly decline. December live cattle fell $1.05 to $127.525. October feeder cattle fell 72.5 cents to $156.375, down 0.9% from $157.725 at the end of last week. Cattle futures posted a modest rebound from a drop to three-month lows earlier in the week but remain burdened by an extended slide in wholesale beef prices. Choice cutout values fell $1.92 early today to an average of $316.08, the 15th consecutive daily decline and the lowest price since Aug. 11. Feedlot operators have been contracting much of this year, and USDA's next monthly Cattle on Feed report Sept. 24 will indicate whether that trend continued in August.
Hogs: October lean hog futures rose 25 cents to $85.725 per hundredweight, up 4% for the week. December lean hogs rose 60 cents to $75.05. Continued wholesale pork strength lifted hog futures. Pork cutout values rose $6.13 early today to $112.10, up 6.7% from the end of last week, USDA reports showed. Traders will keep an eye upon cash and wholesale markets next week, especially after the CME Lean Hog Index diverged from its typical seasonal rally starting in early September. The latest CME lean hog index fell 90 cents to $94.45, the lowest since March 23, though still nearly $9 above nearby futures. USDA's quarterly Hogs and Pigs report Sept. 24 is expected to reflect further shrinkage of the U.S. herd.