Ahead of the Open | August 3, 2021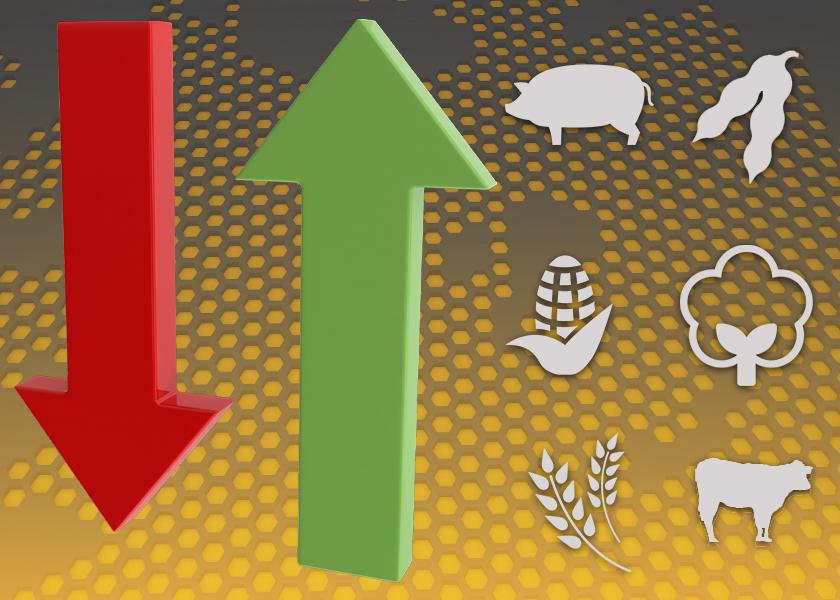 GRAIN CALLS
Corn: 4 to 6 cents lower.
Soybeans: 19 to 25 cents lower.
Wheat: 1 to 9 cents lower.
GENERAL COMMENTS:
Corn and soybean futures fell overnight on expectations increased rainfall prospects for the Midwest will aid crop development. Improved USDA crop ratings also pressured soybeans. Wheat futures fell on profit-taking following yesterday's rally to near three-month highs. Nymex crude oil futures are down over 1% and the U.S. dollar index is little changed.
Based on last night's GFS model run, projected rainfall was increased for east-central South Dakota to Michigan from Saturday into next Monday, according to World Weather Inc. Expected rainfall was also increased for Michigan and southern Wisconsin next week.
Crop Consultant Michael Cordonnier held his U.S. corn yield projection at 175.5 bu. per acre and his soybean yield forecast at 50 bu. per acre. July "ended up being beneficial for most of the corn in the eastern Corn Belt, but not as beneficial in the western Corn Belt, especially in Minnesota, South Dakota and North Dakota," he said in a report. Iowa "is going to be the swing state this year," Cordonnier added.
Brazil's corn crop will likely total 84 million metric tons (MMT) this season, Cordonnier projected, which was a 2-MMT drop from his forecast last week. Cordonnier maintained his Argentine corn crop estimate of 48 MMT.
Three rounds of frost have curbed Brazil's winter wheat crop, Cordonnier said. In top-producing Parana, around 27% of the wheat crop had heads emerged when the third and hardest freeze hit last week, making it very sensitive to frost. "The extent of the damage will not be known until grain filling starts. Some of the most advanced wheat may be a complete loss due to the repeated frosts," Cordonnier says.
CORN: USDA rated 62% of the U.S. corn crop in "good" or "excellent" condition at the start of this week, down from 64% a week ago and below analysts' expectations for 63%. When USDA's weekly condition ratings are plugged into the weighted Pro Farmer Crop Condition Index (CCI; 0 to 500-point scale, with 500 representing perfect), the corn crop dropped 2.3 points to 363.8 points, 8.0 points below the five-year average. USDA's Grain Crushings Report yesterday showed 439.9 million bu. of corn was used for ethanol production during June, slightly under trade expectations. Corn use for ethanol in June was down from 448.9 million bu. in May but up from 379.2 million bu. in June 2020.
SOYBEANS: USDA reported 60% of the U.S. soybean was in "good" or "excellent" condition at the start of this week, up from 58% a week ago and stronger than analyst expectations for 57%. Based on our CCI, the soybean crop rose 1.7 points to 352.9 points, 7.8 points below the five-year average. November soybeans overnight fell as low as $13.27, the lowest intraday price since $13.32 on Jan. 26 and slightly under the 100-day moving average of about $13.34.
WHEAT: USDA rated spring wheat 10% "good" to "excellent" at the start of this week, up from 9% a week ago, while 64% of the crop was rated "poor" or "very poor," down from 66% a week ago. The spring wheat CCI rating improved 5.2 points over the past week to 221.8 points, the first increase for the crop this growing season, though the rating is still 136.2 points (38.0%) below the five-year average. The winter wheat crop was 91% harvested, up from 84% a week earlier, USDA reported.
CATTLE: Steady-firm
HOGS: Steady-firm
CATTLE: Firm cash market fundamentals should underpin cattle futures, while feeders may gain a lift from weaker corn prices. Choice cutout values yesterday averaged $281.00, up $2.54 from Friday and the ninth consecutive daily gain since the market hit a 3 1/2-month low in late July, USDA data showed. Live steers in top feedlot regions averaged $121.68, matching last week's average.
HOGS: Ongoing strength in the wholesale pork market, which is near two-month highs, may help lean hog futures extend yesterday's gain. Carcass cutout values yesterday surged $4.82 to $128.71, up 1.2% for the week and the highest since June 11. Carcasses on national direct markets averaged $101.00, down 70 cents from Friday. Estimated hog slaughter yesterday was 414,000 head, down from 463,000 head a week earlier.