Ahead of the Open | October 21, 2021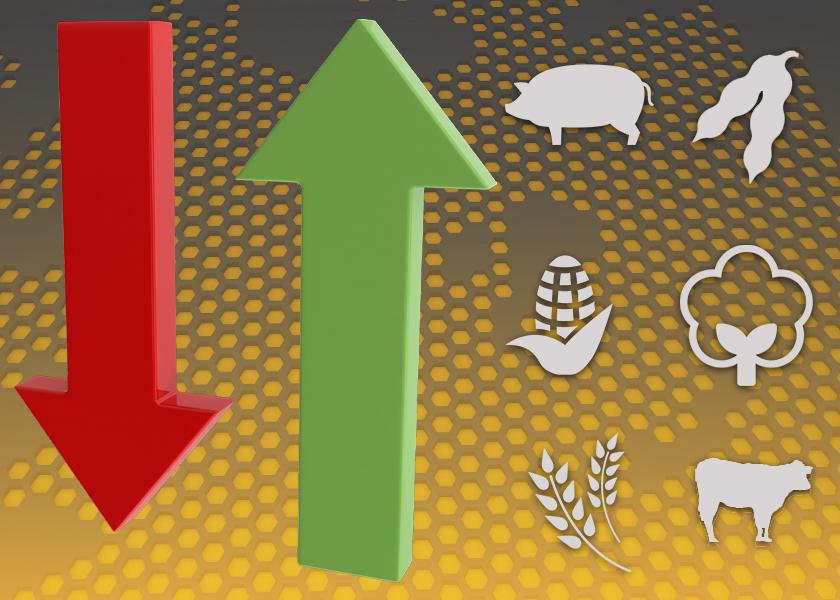 GRAIN CALLS
Corn: 3 to 4 cents lower.
Soybeans: 9 to 10 cents lower.
Wheat: 1 to 8 cents lower.
GENERAL COMMENTS: Grain and soybean futures fell overnight in a pullback from yesterday's climb to two-week highs. Malaysian palm oil futures fell over 2.0%, while front-month Nymex crude oil futures retreated after nearly hitting $84. The U.S. dollar index is little-changed.
Mexico will continue to import U.S. GMO corn, according to Mexican Agriculture Minister Victor Villalobos after meeting Wednesday with USDA Secretary Tom Vilsack in Iowa. However, the country will not allow GMO corn to be grown in the country.
Private consulting firm Strategie Grains raised its EU wheat crop forecast by 400,000 MT to 129.5 MMT, which would be up 10.5 MMT (8.8%) from last year. It now expects the EU to export 32 MMT of wheat in 2021-22, up 1 MMT from its prior forecast due mostly to strong shipments from eastern countries in the bloc.
Constant rains in recent weeks have delayed wheat planting in main production regions in China, Reuters reported. China had completed 26% of winter wheat planting across the nation by Oct. 19, slower by 27 percentage points than normal years, due to constant rains since September.
Argentine farmers have sold 31.9 MMT of soybeans harvested in the 2020-21 season, the ag ministry said yesterday in a report with data updated through Oct. 13. It said the rhythm of sales was slower than last year's, when, as of the same date, deals for 33.5 MMT had been registered.
Japan purchased 81,318 MT of wheat from its weekly tender, including 28,878 MT of U.S. supplies; the remainder was Canadian origin. Turkey bought 225,000 MT of wheat, with more purchases from the tender for 300,000 MT likely to come. Tunisia tendered to purchase 100,000 MT of soft milling wheat.
CORN: USDA reported net U.S. corn sales totaling 1.273 MMT for the week ended Oct. 14, up 22% from the previous week and up 67% from the average for the previous four weeks. Top buyers included "unknown destinations" (456,700 MT) and Mexico (377,100 MT). The sales were nearer the upper end of trade expectations ranging from 700,000 to 1.4 MMT. USDA reported a daily corn sale of 130,000 MT to Mexico for 2021-22. Chart levels to watch in December futures include yesterday's high at $5.40, which was matched overnight, and the 100-day moving average around $5.46 3/4.
SOYBEANS: USDA reported net weekly soybean sales totaling 2.878 MMT, surpassing expectations for 1.5 MMT to 2.5 MMT. Many of these sales were already "known" via daily sales announcements. China was a prominent buyer, at 1.884 MMT, including 526,000 MT switched from previously reported unknown destinations. November soybeans overnight fell as low as $12.35 1/4. Chart levels to watch include yesterday's one-week high at $12.49 1/2, which was matched overnight.
WHEAT: Net U.S. wheat sales totaled 362,400 MT, down 36% from the previous week and down 6% from the prior four-week average. December HRW futures overnight rose as high as $7.62 1/2, the highest intraday price since $7.64 1/4 on Oct. 4, before fading to losses. Yesterday, December HRW futures settled at $7.59 3/4, the highest closing prince for a nearby contract since May 2014. December spring wheat reached a contract high overnight at $9.96 3/4 before easing.
LIVESTOCK CALLS
CATTLE: Steady-mixed
HOGS: Steady-weak
CATTLE: Futures may extend this week's sideways trade as the market awaits USDA's next monthly Cattle on Feed Report tomorrow. The report is expected to show feedlot placements in September up an estimated 1.4% from the same month a year earlier, based on a Reuters survey of analysts. That would mark the second consecutive monthly increase after placements fell for most of the first half of the year. Light cash cattle trade continued through the middle of the week at steady to slightly firmer prices. USDA yesterday reported live steers in five top feedlot regions averaged $124.04, compared to an average of $123.84 last week. Choice cutout values fell 85 cents yesterday to an average of $280.03, 1 cent above a 2 1/2-month low reached Oct. 13. Movement totaled 128 loads.
Net U.S. weekly beef sales totaled 7,800 MT, a marketing-year low and down 51% from the previous four-week average. Japan and China were prominent buyers. On the daily charts, prices to watch include this week's high in December live cattle at $131.125 and the 100-day moving average around $131.15.
HOGS: Futures may see followthrough pressure after tumbling yesterday to near a one-month low on technical weakness and soft cash fundamentals. The next CME lean hog index is down 74 cents to $85.89, the lowest since early March. Pork cutout values fell $2.40 yesterday to $96.87, the lowest daily price since $94.93 on March 8. Carcass values on national direct markets fell 4 cents to an average of $66.93. This week's slaughter is running slightly ahead of last week's pace, at an estimated 1.428 million head through Wednesday, up 1,000 head from the same period last week but down 2.2% from the same period a year ago, USDA data showed. USDA reported net weekly pork sales of 20,900 MT, down 38% from the previous week and down 36% from the four-week average. 
December lean hogs yesterday fell as low as $75.925, the lowest intraday price since $75.65 on Sept. 24. Downside objectives for market bears include solid support at the September low of $71.275.