First Thing Today: Corn, wheat mildly extend Tuesday's corrective pullback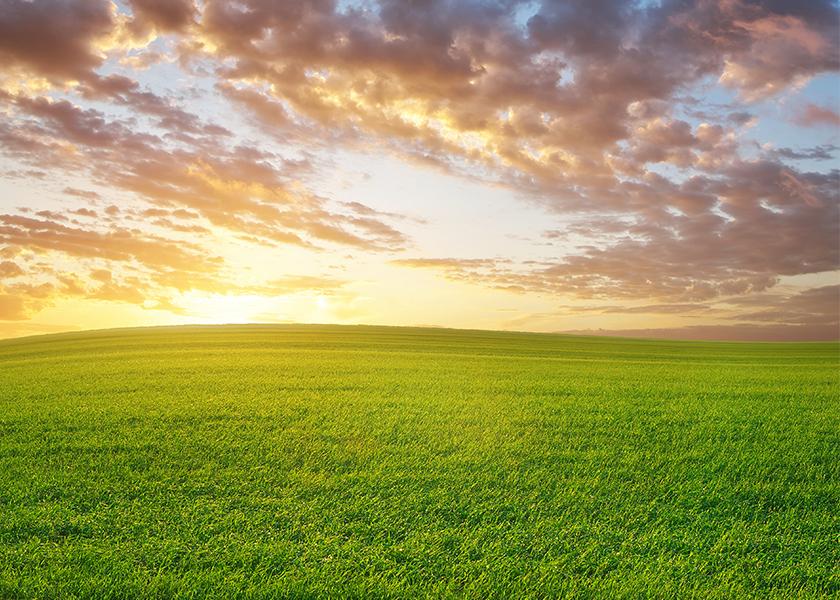 Weaker tone overnight... Corn and wheat futures extended Tuesday's corrective pullbacks overnight, while soybeans also softened. As of 6:30 a.m. CT, corn and soybean futures are trading 2 to 3 cents lower, winter wheat futures are fractionally to 3 cents lower and spring wheat is mostly 5 to 6 cents lower. Front-month crude oil futures are around $1.75 lower and the U.S. dollar index is holding near unchanged this morning.  
Awaiting FOMC meeting conclusion... The two-day Federal Open Market Committee (FOMC) meeting wraps up today, with the Fed expected to announce its intentions to taper the bond purchases that have been taking place at $120 billion per month. The tapering is expected to be steady once it starts and be wrapped up by mid-2022. Fed Chairman Jerome Powell has indicated the conditions regarding any possible increase in the Fed funds rate are totally different from the ones used to determine when to start tapering the bond purchases. Inflation will be the other focus as it appears the rise in prices is going to be in place longer than the Fed expected. That will likely be in part addressed via the post-meeting statement, but the major focus will be on Powell's post-meeting press conference.
Republican Youngkin wins Virginia governor's race... Glenn Youngkin (R), in his first run for office, defeated Democrat Terry McAuliffe for governor in Virginia, a state that's been trending blue for a dozen years and would have been labeled a clear blue state had McAuliffe won. Among the reasons being cited for the Republican showing: President Joe Biden's sagging approval ratings, an increasingly unhappy electorate and Republican cultural fights over "critical race theory," immigration and vaccine mandates. Those are issues that will likely resound into midterm elections in 2022. New Jersey's race for governor between incumbent Democratic Gov. Phil Murphy and Republican Jack Ciattarelli was still too close to call.
Five House Democrat moderates give conditions for support on spending measure... In a letter to House Speak Nancy Pelosi (D-Calif.) on Tuesday, the Democratic moderates listed three things they want:  
A score from the Congressional Budget Office (CBO).

72 hours to read and review the legislative text.

Assurances that what passes in the House will clear the Senate parliamentarian.
Democrats reach drug pricing deal... Democrats struck a deal to add provisions aimed at lowering the price of some prescription drugs to President Joe Biden's $1.75 trillion tax and spending bill, clearing one of the major hurdles to staging a House vote as soon as this week. The deal would empower Medicare, the government insurance plan for those 65 and older, to negotiate with drugmakers on prices for the first time. But to win over party holdouts, the price cuts apply to a narrower set of drugs than House Democrats originally proposed. Under the plan, starting in 2023, 10 high-cost drugs will be subject to price negotiation with Medicare. It would also put a $2,000 annual cap on Medicare drug costs. Sen. Kyrsten Sinema (D-Ariz.), a key vote in the 50-50 Senate, said she agrees on the proposed plan.
SALT-cap suspension for five years is latest House option, but Sanders will not support... House Democrats are considering a five-year suspension of the cap on the federal state and local tax deduction before it's reinstated in 2026, a move that may let lawmakers argue expanding the tax break won't hurt revenue. Where to set the limit — currently $10,000 — when it goes back into effect is still under discussion. But once it gets to the Senate, opposition from Sen. Bernie Sanders (I-Vt.) is expected.
Inflation watch: Cookies and candies you like are going to cost more... Mondelez International, the maker of Oreo cookies, Toblerone chocolate and Sour Patch Kids candy, is raising prices around the world as it pays more for ingredients, transportation and wages. U.S. consumers so far have proved willing to pay more for Mondelez's snacks, the company's chief executive said, because they are spending less on eating and drinking at restaurants. "We've been increasing prices, and we plan to increase prices more than we've done at least in the time that I'm here and probably for quite a while as a company," said Mondelez Chief Executive Dirk Van de Put.
Rewriting the rules of global commerce: Tariffs to cut carbon emissions... Using tariffs on trade to cut carbon emissions is being pushed by governments in the U.S., Europe and other developed nations, the Wall Street Journal (WSJ) reports. The idea has the potential to rewrite the rules of global commerce. Policy makers on both sides of the Atlantic are looking at targeting steel, chemicals and cement. The tariffs would give a competitive advantage to manufacturers in countries where emissions are relatively low. Carbon tariffs, also called border adjustments, are intended to plug a hole in domestic policies that discourage emissions. Over the weekend, the Biden administration announced the first-ever trade agreement to incorporate such a concept. The pact with the European Union would jointly curb imports of steel that generate high levels of carbon emissions.
China targets 1.8% cut in coal use for power by 2025... China said it is targeting a 1.8% reduction in average coal use for electricity generation at power plants over the next five years in a bid to lower greenhouse gas emissions. By 2025, coal-fired power plants in China must adjust their consumption rate to an average of 300 grams of standard coal per kilowatt-hour (kWh), the National Development and Reform Commission said, down from 305.5 grams per kWh in 2020. Average coal use for power generation in China has been reduced from 370 grams per kWh in 2005. The lower target comes as the world's top climate negotiators have gathered in Scotland for the COP26 climate talks, which Chinese President Xi Jinping is not attending.
Transport companies benefitting from global supply strains... Shipping company A.P. Moeller-Maersk is reaping the benefits of global supply strains that have pushed up ocean freight rates near record levels and caused backlogs at U.S. ports. The company reported a profit of $5.44 billion for the September quarter, more than five times the profit it had a year ago. Schneider National, a large trucking company based in Green Bay, Wisconsin, boosted its net income by 147% to $110 million in the third quarter from the year-ago period and surpassed a quarterly record for earnings per share that the company had set just one quarter before, WSJ reports. Fort Smith, Arkansas-based trucking and logistics operator ArcBest more than doubled its quarterly profit from the year-ago period. Customers of the transport operators are feeling the pinch of rising costs and other supply-chain woes.
UAW members reject Deere contract offer... More than 10,000 members of the United Auto Workers (UAW) union at 12 facilities in Illinois, Iowa and Kansas on Tuesday rejected the second contract proposal from Deere & Co., with 55% of union employees voting against the offer. With the rejection, union workers will continue their strike, which began Oct. 14.
Cash cattle trade starts at higher prices... Sources reported unconfirmed cash cattle trade around $128 in the Southern Plains and at $130 in Nebraska Tuesday afternoon. Those prices would be up around $2 from last week's sales levels in those areas. Some feedlots reportedly passed on the higher bids in hopes of securing even stronger prices later given the aggressive stance by packers so early in the week.
Pace of decline in CME lean hog index slows, but it's still dropping... The CME lean hog index is down another 12 cents today, which is the smallest daily decline since Oct. 4 when the index rolled over after a modest uptick. Until there are signs the cash index has put in a bottom, however, the upside in hog futures will be limited to modest bouts of corrective buying.
Overnight demand news... Exporters reported no sales or tenders overnight.
Today's reports