First Thing Today: Soybeans extend corrective recovery overnight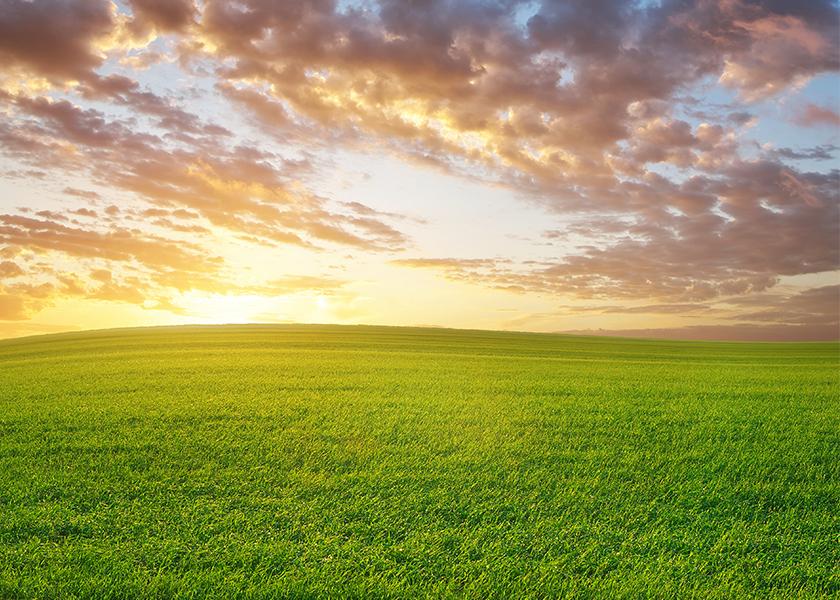 Soybeans extend corrective recovery overnight... Soybean futures were supported by followthrough buying overnight, though the November contract failed to push above Tuesday's high. As of 6:30 a.m. CT, soybeans are trading around 9 cents higher, corn is 3 to 4 cents higher and wheat futures are 1 to 4 cents higher, led by SRW contracts. The U.S. dollar is holding near unchanged this morning, while front-month crude oil futures are around $1 lower.
Ukraine sets wheat export quota at 25.3 MMT... Ukraine's ag ministry and exporters agreed on a wheat export quota of 25.3 MMT for 2021-22, up from 17.5 MMT last year. While this is called a "quota," it's not a hard cap and is really just a reasonable level of what the country expects to ship during the marketing year. Through the first three and a half months of 2021-22, Ukraine had exported 10.7 MMT of wheat -- 42% of the so-called quota.
Rains delay China's harvest, winter wheat seeding... Heavy, persistent rains in recent weeks have slowed harvest efforts and delayed wither wheat planting in key production regions of China. Harvest is running four percentage points behind average and winter wheat seeding is a point behind normal. The country's ag ministry says it will take "extraordinary measures" to tackle the "unfavorable impact and austere challenges" the rains have posed for harvest and planting.
China taking steps to ensure fertilizer supplies... A spokesperson for the National Development and Reform Commission (NDRC) says the state planner would ensure enterprises get adequate supplies of coal, electricity, natural gas and sulphur to produce fertilizers. NDRC will also take steps to ensure "the release of relevant chemical fertilizer reserves" and closely monitor domestic and foreign fertilizer markets and import and export trends. In a move viewed as a de facto ban on fertilizer exports, China's customs said from Oct. 15 inspection certificates would be required to ship fertilizer and related materials. More than two-thirds of China's phosphate exports go to South America, with around 50% shipped to Brazil and 15% to 20% to Argentina.
Vilsack meeting today with Mexican counterpart in Iowa... USDA Secretary Tom Vilsack will be in Iowa today and Thursday for the World Food Prize and will meet with Mexican Secretary of Agriculture and Rural Development Víctor Manuel Villalobos Arámbula. The two are scheduled to tour Iowa State University's Seed Science Center and Plant Sciences Institute and a farm near Ankeny, Iowa, to talk with producers. The two are scheduled to hold bilateral discussions later today and participate on World Food Prize events Thursday. The issues of GMO corn, dairy and potatoes are likely to be on the agenda for the discussions. Vilsack has publicly insisted that the pending ban on imports of GMO corn will not affect U.S. corn exported to Mexico for feed use, a sizable market for the U.S. The presidential decree is not totally clear and it also could be changed by a future Mexican administration.
Big push to get BBB/reconciliation framework agreement by month's end... President Joe Biden wants to secure a vote on the $1 trillion bipartisan infrastructure bill (BIF) and a "public agreement" from Democrats on the parameters of the Build Back Better (BBB) package before he travels abroad to Italy and Scotland on Oct. 30. A BIF vote is contingent upon them getting a solid reconciliation framework in place. Bottom line: Dropping or trimming parts of the multitrillion-dollar tax and spending package brought signs of progress after the president met with party moderates and progressives at the White House and Senate Majority Leader Chuck Schumer (D-N.Y.) stepped up pressure to complete a framework deal this week.
U.N.: Fossil fuel plans 'dangerously' out of line... The U.N. said countries' plans to extract fossil fuels are "dangerously" out of line with the reductions needed to prevent serious global warming over the next decade. Coal, gas and oil production rates are more than double what they need to be in order to keep the rise in global temperatures within 1.5C. The stark report comes in the lead-up to the U.N.'s climate-change conference, COP26, in Glasgow.
Bitcoin nearing a new high... Yesterday's launch in New York of a Bitcoin futures ETF drew nearly $1 billion in trading volume, one of the biggest fund debuts in history. Grayscale applied to convert its $40 billion Bitcoin trust into an ETF, and other fund managers have pending applications.
USDA details new dairy export certificates process for shipments to U.K... New dairy export certificates for the export of U.S. dairy and dairy composite products to Great Britain were implemented Sept. 30, according to USDA's Agricultural Marketing Service, applying to shipments to England, Wales, Scotland, the Isle of Man and the Channel Islands. However, U.S. dairy exports to Northern Ireland will still use European Union (EU) dairy certificates. If shipments to Great Britain are to end up in Northern Ireland or any other country, it will require a new export certificate issued by Great Britain. The action comes as part of the U.K. leaving the EU. Sept. 30 marked the end of a transition period where U.S. dairy exporters could still use EU export certificates.
China approves Russian beef imports... China's customs office has approved beef imports from Russia, effective Oct. 18. The beef must come from cattle under 30 months of age. China's appetite for beef has exploded after domestic pork prices surged in the aftermath of the country's African swine fever outbreak. Russia is not a major exporter of beef, but China is looking to find new sources for beef after Beijing last week renewed a ban on the import of British beef due to a case of bovine spongiform encephalopathy (BSE), while top beef exporter Brazil suspended shipments to China following two atypical cases of BSE. U.S. shipments of beef to China surged 841% versus year-ago through the first eight months of this year.
Slow developing cash cattle market... Some feedlots are asking around $126 for cash cattle in the Southern Plains, but no asking prices have surfaced in the northern market and packers have yet to establish their initial bids. That suggests cash trade will be pushed deep into the week, which is typical in weeks with a Cattle on Feed Report such as this. Cash prices have firmed $1.28 the past two weeks and there hasn't been a string of three weeks of cash strength since June, so packers may be reluctant to raise bids again, despite highly profitable margins.
Pork cutout falls below $100... The pork cutout value dropped $1.44 on Tuesday to $99.34 amid sharp losses in bellies and butts, while ribs and hams posted lesser declines. The cutout value is down $6.72 since last Thursday and yesterday marked the first time it has been below $100 since March. Movement is strong, but packers are apparently having to cut prices to move product. Until that changes, there's likely to be more near-term pressure on wholesale pork prices.
Overnight demand news... Results of Jordan's international tender to buy 120,000 MT of wheat are expected later today.
Today's reports